About Us
The most popular license plates in the world are California license plates issued before 1989. It is clear that movies and TV shows featuring iconic cars like American Graffiti, Bullitt, Christine, The Rockford Files and others with California license plates have added to their popularity. The relaxed California car-culture lifestyle shown in Hollywood movies and TV shows with scenes featuring beaches, Beverly Hills, Pacific Coast Highway or the Golden Gate Bridge have added to the popularity of California license plates. For these reasons, car collectors, automobile museums, car show enthusiasts, car restoration garages, high-end automobile auctions and interior decorators seek custom older California license plates with personalized numbers and letters. However, the pre-1989 custom California license plates available at Amazon, Esty or eBay are flat (not embossed) and those which are embossed or stamped are made of plastic with incorrect colors and fonts.
To deliver authentic look custom California license plates, we created www.calplates.com. We manufacture our replica California personalized/customized California license plates in aluminum with the closest match to the originals in size, colors and fonts and each license plate is stamped to produce raised letters and numbers. Our California license plates are perfect for hobbyists who collect antique automobiles and exhibit at car shows or for automobile museums seeking near-perfect replicas of California license plates. Interior decorators seeking to create an automotive look to an office, room or garage can customize and order California license plates to add a California lifestyle theme to their design.
Calplates designed our website to make the process of ordering your custom California license plate easy. Just type your personalized license plate number and you can see your very own custom plate – created by you!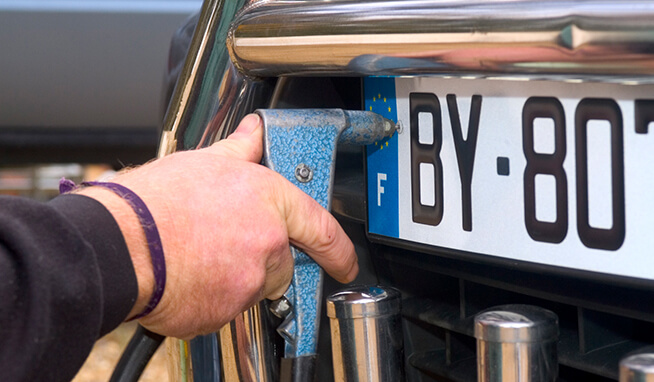 This gives you the freedom to create any number on your plate. The realistic look of our California license plates will amaze you and the judges at car shows and now your4 collector antique car can earn higher points when graded. Yes, authentic look YOM (Year Of Manufacture) license plates does assist in making your show car get higher points when graded. If your car is going to auction, a YOM license does add to its authenticity and surely will attract more interest and probably, buyers willing to go the extra mile and bid prices higher. Calplates has engineered our line of California license plates from 1920 through 1989 with correct colors, font styles and finish to look as good as these license plates were "back in the day".
Why Buy From Calplates.com?
Authentic Sizes
Authentic Fonts
True Color Match
No Foils
No Wraps
Friendly Service